For the first time, the reform of the European Common Agricultural Policy (CAP) will be decided by both the European Parliament and national Governments. The debate is going on right now which is why hundreds of civil society activists and groups arrived in Brussels today to demand that the CAP delivers good food and good farming. Over the summer, farmers, citizens and young people from across Europe have been making their voices heard at events, actions and protests as they march on Brussels by bike, foot and tractor. Along the way, they have been sharing their demands in photo messages via the
Good Food March
and sending them to MEPs.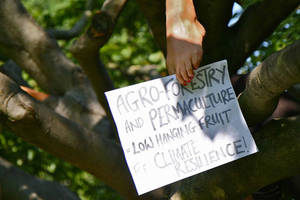 Before the marchers presented their demands to the European institutions at a special conference, Green MEPs met and with them in front of the European Parliament and spoke about their work on CAP reform thus far. The Greens/EFA group has just launched its own
campaign leafleft
detailing its demands for the reform of the CAP. In it, we call for reform in six key areas:
20% of farm holdings still receive 80% of all direct payments under the CAP.
CAP should promote crop rotation and not incentivise monocultures.
More than 7 million farmers will disappear in the next 10 years.
The CAP should help to reconnect farmers and citizens and promote local food chains.
Good food is fresh, tasty and free of unhealthy residues
The CAP should not complicate farmers' lives The new CAP must be fair, green, young, democratic, healthy and easy, - or it will not be. The old CAP is already dead. It is unfair, unsustainable, sclerotic, undemocratic, unhealthy and bureaucratic. Not reforming the CAP would be a fundamental blow to European identity and solidarity, whilst playing into the hands of nationalist politicians. European farmers and citizens are rediscovering the value of food and the values of solidarity. This requires organising sustainable farm and food networks and citizens' initiatives. CAP reform is NOW - or never.