Monday 17 September 2012
17:00-19:00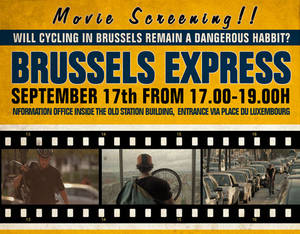 Screening of "Brussels Express"

a 20 minute impressive documentary on the courageous nature of biking in Brussels. Followed by a cocktail and lively debate with the director of the documentary, MEPs
Bart Staes
and
Michael Cramer
and Brussels secretary of state for transport and mobility Bruno de Lille
Tuesday 18 September 2012
> ALL DAY LONG
10:00-15:00
Sustainable2Wheels

-
exhibition/demonstration of vehicles
(on the Solidarnosc Esplanade)
-
presentation/information on sustainable mobility projects, services
& organisation
(inside Luxembourg Station)
08:30-16:30

EMAS information stand on sustainable mobility "don't look back"

inside EP, ASP building, ground floor, central corridor (in front of the kiosk)
10:00-15:00
permanent video screening, "Brussels Express"
, hosted by
Bart Staes
Greens/EFA MEP
(in the information office located inside the Old Station building, Place de Luxembourg)
> MORNING
09:00-10:00
biker's breakfast
(inside Luxembourg Station)
09:30-10:00
official inauguration
and interview with Commissioner
Janez Potocnik
, EU Commissioner for the Environment, and Greens/EFA MEP
Isabelle Durant
, Vice-President of the EP, on 2Wheels in EU policies
(inside Luxembourg Station)
10:00, 11:00, 12:00 & 13:00

bike tours
guided by ProVelo, start and finish at the EP and passing the European Commission and Council. The route is the one that European policy makers would effectively use should they do their service trips by bike. There will be bikes available.
11:00
bike tour
by Greens/EFA, with statements by MEPs
Michael Cramer
and
Bart Staes

> AFTERNOON
13:00-14:00
lunch
on the Esplanade
15:00

end of the events on the Esplanade and in Luxembourg Station
15:00-16:30

public hearing
(web-streamed) of TRAN Committee in EP on sustainable mobility in the cities Vilnius, Bologna and Gent
(in room JAN 2Q2 - European Parliament) Contact: