Several MEPs from the European Parliament's EFA Group have shown their support for lifting the blockade of Gaza to allow much needed humanitarian supplies to reach the local population.
Former EFA MEP Ana Miranda is among those taking part in the 'Freedom Flotilla' of boats currently at sea which hopes to break the blockade and deliver humanitarian aid.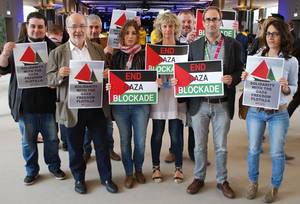 MEPs from a variety of political groups and nationalities gathered before the opening of the European Parliament's Plenary Session in Brussels holding posters calling for an end to the Gaza blockade.
EFA Group President Josep-Maria Terricabras and Jordi Sebastià were among the MEPs taking part.