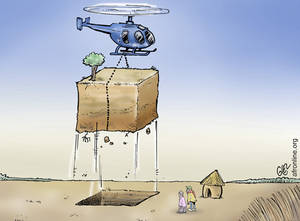 The public debate included high level speakers like Olivier de Schutter, Special Rapporteur of the United Nations on the human right to food; Renée Vellvé from GRAIN, the global network focussing on people's struggles against privatisation of natural resources; Shivani Chaudhry, an Indian human rights activist; Claire Schaffnit-Chatterjee, Senior Analyst at Deutsche Bank AG; Jim Harkness, Director of the United States Institute for Agriculture and Trade Policy; and Professor Harald von Witzke from the Humboldt University Berlin, working on international trade and development.
"The problem of land grabbing and concentration of land ownership in a few hands, violence against small farmers to get access to land for export production, and the systematic undermining of food sovereignty has been known for many years", said Martin Häusling, one of the initiators of the conference, "but we need to tackle it now as Europeans. Our European model of agriculture is not as sustainable as some of my colleagues claim. We are importing animal feed and raw material for agro-fuels which are grown on 35 million hectares that are not ours; and we contribute to climate change and land grabbing, because our policies are forcing farmers into an industrial model of agriculture and further liberalisation of trade in farm products."
Olivier de Schutter called upon governments to adopt laws to protect existing land users, mainly small farmers from violent expropriation and from losing access to land, to strengthen customary land tenure systems and tenancy laws, and to guarantee special protection for subsistence farming and pastoralists.
Renée Vellvé from GRAIN called for building alliances across NGO movements and governments to stop land grabbing and to create more public political pressure in countries where land grabbers are headquartered, "from India to the Netherlands".
Speakers from European Alliances like Terre de Lien highlighted that also in Central and Eastern Europe, recent years have seen a rapid concentration of farmland in very large agribusinesses, based on massive national or foreign investments. Jim Harkness of IATP highlighted the effects of land ownership concentration in the USA linked to corporate control of farming, and of changes in the food security policies of China on entire continents like Africa.
Finally, according to the Chair of the Human Rights Subcommittee in the European Parliament, Barbara Lochbihler, human rights have absolute legal supremacy before any other aspect, including economic interests. Therefore, "any human rights violation that is caused by the appropriation of land, at home and in third countries, constitutes a clear breach of international law."