Dutch citizens campaign to welcome 500 refugee children
In a Dutch story of solidarity and support, Femke de Vries, Policy officer for the Dutch Council for Refugees, tells of their nationwide campaign to resettle 500 children from refugee camps in Greece to safe haven in the Netherlands.
Our goal was simple and clear: the Netherlands should provide shelter for 500 unaccompanied children from Greece. We based our call on the urgent request from the Greek authorities in October 2019 to relocate 2500 unaccompanied minors to other European countries. Since the Dutch government refused to take over any of these minors, we decided to ask local municipalities to join in coalition of the willing and make a firm statement that there is strong local support in the Netherlands for providing these children with safety and shelter.
We strongly believed in the willingness of Dutch society to show solidarity with these vulnerable children trapped in unsafe camps, like Moria, or left alone in Athens' streets.
The first city to respond was the city of Leiden. Mayor Henri Lenferink explained in a national newspaper why:
"Leiden has traditionally been a city of refugees. Of course we can't solve all the world's problems, but you cannot look away from a humanitarian crisis. The numbers are also very clear. If the Netherlands takes over five hundred unaccompanied children, our city is willing to provide shelter for 25 of them. These are children and they live in very severe circumstances. I have much confidence that we, together with the many volunteers in our city, can welcome them."
Within a few weeks, 40 municipalities had joined the coalition of the willing. And, after a year, 188 municipalities and 5 provinces pledged their support. That is more than half of all municipalities in the Netherlands, representing 12 million people. We also launched a petition that was signed by 106,606 concerned citizens, which we presented to Dutch Members of Parliament. In front of Parliament, we put 500 empty white chairs symbolizing the space we have for 500 children.
Many initiatives and supporters joined our campaign: organisations for international aid, human rights and children, along with scientists, doctors, churches, mosques, artists, TV-presenters, (former) prominent politicians from all political parties, and even a group of well known former children in hiding of world war 2. Throughout the year, many beautiful initiatives arose and joined our campaign, like the doctors from SOSMoria who decided to take action after all the human suffering they'd witnessed when working in the Moria refugee camp.
The mayor of the city of Groningen, Koen Schuiling, underlined the solidarity of his city in a joint event with 37 municipalities in April 2020. He shared his story from the roof of Forum, a key building in this Northern city: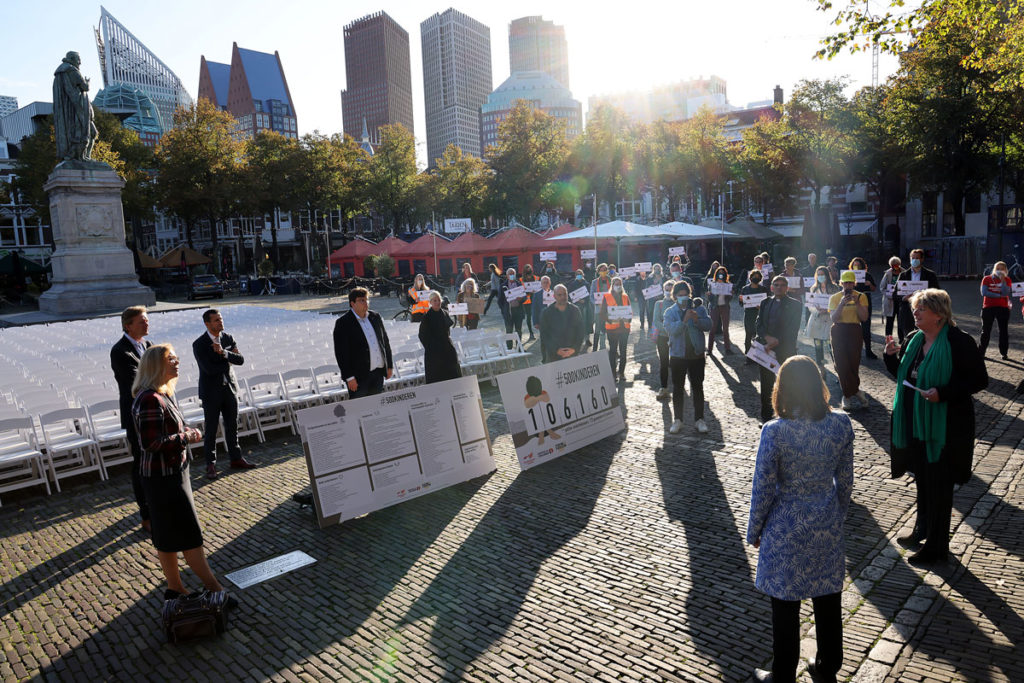 'I am looking out over our city that is more than 1000 years old. This city has gone through a lot over the years. Now the city faces the corona crisis in solidarity and we help each other. But 1000 kilometres from here – in Europe – there are children without a father or a mother who also need help. From Groningen I call upon our government to show the same kind of solidarity with these vulnerable children. It is a matter of civilization to help the children of Moria and give them shelter in the Netherlands, and Groningen is willing to provide shelter for 15 of these children.'
His colleague, Jos Wienen, mayor of the city of Haarlem, made a similar and beautiful call from the city's Bavo Church. He spoke about the willingness to help and the solidarity of his city with these children. He also stressed that the movement of solidarity was pan-European, connecting Osnabruck in Germany with Angers in France, and with Haarlem and the Dutch coalition of the willing.
This example of solidarity is one of many amazing "Europe Welcomes" initiatives over Europe. Civil society organisations, municipalities and citizens show that they are ready to welcome refugees and asylum seekers. You can see them in our map and learn what you can do to contribute to a more welcoming Europe